The day started off with us waking up to the sound of people exiting the building and children laughing outdoors. Nicki and I ended up passing out (jet lagged AF) by 9:45ish, so waking up at 8:30 wasn't bad at all. I hopped in the shower, then Nicki and I went out for a coffee run. Which lovely coffee and tea shoppe did we visit, you ask? We got our butts to the closest Starbucks- which is about a 5 minute walk from our building.
When I ordered a grande iced coffee, the nice coffee man asked me if I wanted a latte, americano or something luxurious like that. So, I guess England is sin regular iced coffee. Thankfully, I was prepared and quickly shot back "cold brew, french vanilla!" When I walked over to the dairy/ sugar station, I realized they only had skim and partially skimmed milk. I decided to take a leap and try it black. For those of you who are familiar with my coffee habits, I tend to be a bit heavy on the cream. I'm not sure if the foreign country has given me false confidence, or if I'm still delirious from being jet lagged, but I drank it black just fine.
It took us about 20 minutes to get to our academic building. We went to Dr. Leeman's class for the first two hours of our day. I took a class with him my Spring semester of my freshman year and it took me about 15 minutes into his lecture to have flashbacks of furiously taking notes (furiously = diligent, Dr. Leeman!!!) However, going over the syllabus and looking into all of the activities we would participate in definitely made me excited.
An accurate depiction of my note taking: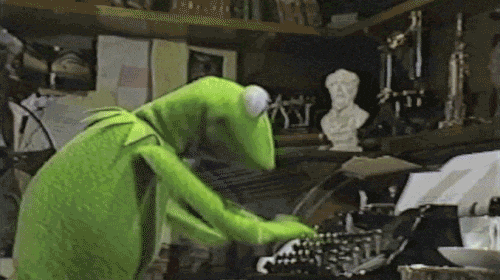 After class, we had an hour break for lunch. Nicki and I packed peanut butter sandwiches, but I ate mine during the history class's break. In a very kind gesture, the man working for the dining hall gave me a free orange and a banana. That was able to hold me over until dinnertime. We all sat at a table and talked about our experiences so far. The first day was fun, but definitely a bit crazy and stressful. It was nice to hear that many people were in the same boat as me. I described the feeling I felt yesterday as similar to the feeling I had when I went on the service plunge before freshman year. Overtired, confused, a bit homesick, and overwhelmed. However, similar to the second day of the service plunge, I definitely settled in a bit more today.
Wh
en we got to Dr. Trainor's class, we spent about an hour going over the syllabus before we left to go on a field trip. Silly me didn't think to bring my bus pass and I only had two pounds in change on me (it takes between 1.80- 2.20 pounds for a trip). Thankfully, Dr. Trainor was generous enough to lend me 2 pounds. (To be honest, I didn't even know that they had a two pound coin!)
I was pretty flustered when I got on the bus because the driver asked where I needed to go and how old I was and I didn't know the answer to the first question. However, when we got off of the bus, I was able to get my mind off what just happened and got to worry about the NEXT bus trip instead (haha).
However, my worries were temporarily relieved when we arrived at University Church of St. Mary the Virgin. I posted one or two photos of it yesterday, but today we had the treat of actually going to the top balcony of it. The stairwell was insanely tiny and once we got up top, it was certainly a tight squeeze. There was a lot of squishing against walls and pressing up against people I hardly know. Everyone had a great attitude about it, though.
Here are a few pics I got:
This slideshow requires JavaScript.
I know, I might've lied when I said "a few" but can you blame me? It was drizzling and we ended up soaked by the end but it was 100% worth it. When we got back on the bus, I was frazzled AGAIN because it turned out I had to pay 2.20 pounds (instead of 1.80) so Abby was kind enough to lend me 20 pence. I spent the rest of the ride convincing myself that these experiences are good for my Type A mind that constantly pushes me to want to control things and freak out on public transportation. On the plus side, Vanessa agreed to take a selfie with me.
We got back to the room and Nicki and I made some scrumptious pasta and sauce (whilst reading Alice in Wonderland). I am ending the day with this blog post and a glass of white wine. I could get used to this.
GIF credit:
https://giphy.com/gifs/XIqCQx02E1U9W/download